The American University in Vietnam was launched in the central city of Da Nang on August 6, the first education institution under the US curriculum in the central Vietnam.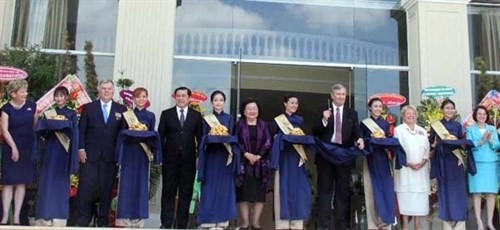 The American University in Vietnam is launched in the central city of Da Nang (Source: Da Nang portal)
The foreign owned university, which was built on 32ha with total investment of 3.2 trillion VND (142.2 million USD) in Ngu Hanh Son District, is scheduled to enroll students for 2016-17 basic training in finance, accounting, marketing, hotel management, tourism, communication and business.
It's also the first non-profit university from the US in Da Nang and the central region.
According to the city's tourism association, Da Nang has a tourism workforce of 14,000, but only 40 percent are skilled.
The city's tourism industry needs about 10,000 more staff, while a system of 12 colleges and vocational centres could only train about 5,000 students a year.
Earlier this year, the city's Dong A College and William Angliss Institute from Australia started a personnel training programme for the hospitality, tourism and culinary arts sectors for 2016-17 with funding from the Australian government.
The city, in cooperation with the UK, has proposed establishing the International Da Nang-UK University in the city.