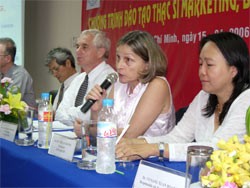 The program is introduced at the meeting. (Photo:VH)
A new MBA training course "Master in Marketing, Sales and Services" of the French Vietnamese Center for Management Education in Ho Chi Minh City (CFVG-HCMC) was introduced in a launching conference on April 15.
The tailor-made program is aimed at managers who want to enhance their capacities in marketing activities.

It is designed in a bid to strengthen the links between business and academia, enabling the participants to combine their professional activities with study.
The 16-month course is delivered in English. It includes a study trip to France with lecturers and visits to top international companies providing an insight of the European economic environment. Those with two years' working experience can apply for admission.
The course will officially start in September, 2006.
Marketing has appeared as one of crucial steps of the company's management tools to ensure that products and services are developed according to market requirements.
Marketing in Viet Nam has emerged as one of the most notable subjects, attracting lots of students who are interested in product development, pricing and promotion.
There are currently around 10 universities with marketing training courses in Viet Nam, contributing to efforts to meet the growing demands of business and the rate of economic development.