Yesterday, a national conference entitled "Stepping Up: Applying IT to Education & Training" was organized by the Ministry of Education & Training and was telecast live in Ha Noi, Vinh, Da Nang, Can Tho and HCMC. The Deputy Prime Minister, Minister Nguyen Thien Nhan took part in this important event.
In recent years, many high schools and intermediate schools have applied information & technology (IT) into their curriculum. The Ministry of Education & Training and a few related departments have implemented IT management strategies. However, the application has not made an impact on the quality of learning and studying as well as on effective management. This is the reason why the Ministry of Education & Training has chosen the topic for the academic year 2008-2009 as "Stepping up to Apply IT in Education and Training".
In 2008-2009, the Ministry will connect all the information from the various departments via the internet as a part of the national net system. Besides this, the Ministry will launch an online teaching program via Edunet in order to share educational information with everybody.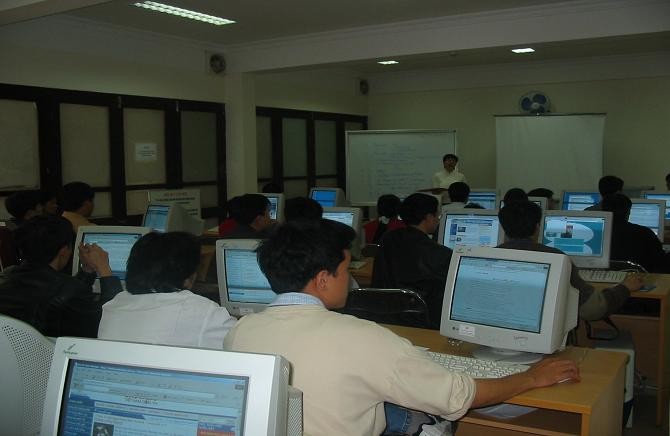 Each college must build own website and students must have access to the internet photo: HT
Each university and college must build their own website and each student and teacher must have access to the internet and email following the domain names of their school. For remote schools that are unable to connect to the internet, Viettel ensures to supply connection with a free of charge via mobile phone.
The Deputy PM, Nguyen Thien Nhan said at the conference that he hopes all managers and teachers recognize the benefits of this new system and take a keen interest to meet the needs of IT for education & training. He hopes that in the next three years, there will be many positive changes and advances in the IT industry.