In order to raise its students' knowledge to the same level of those in advanced countries in the Asian Pacific region, the Asia Pacific International English College has introduced the necessary information on WTO into its 2006-2007 syllabi for its students from grade 9 to grade 12.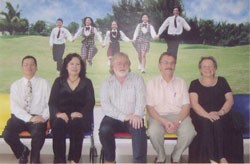 Principle of Asia Pacific College Nguyen Quoc Hung (left) welcomes delegation of German companies. (Photo: A.T)
This is a training program with an aim to provide students with basic knowledge, a sense of globalized trade, opportunities and challenges in the context that Vietnam has recently joined the World Trade Organization.
According to Mr. Nguyen Quoc Hung, Principal of Asia Pacific College, this program not only provides knowledge and information about free trade, globalization issues but also develops the skills in discussion, criticism, presentation and creative thinking for pupils.
The school has pioneered in universalizing this program and is ready to be twinned with other schools in Ho Chi Minh City having the need to teach this kind of knowledge to their students.