Australian Minister for Foreign Affairs officially inaugurated a worldclass recreation complex and student accommodation building at the RMIT International University on March 13.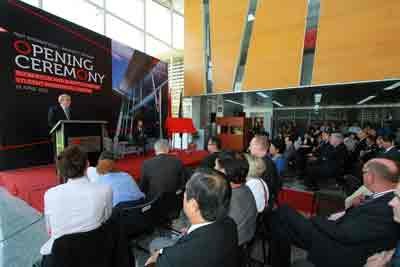 At the inauguration ceremony (Photo: Courtesy of RMIT)
While inaugurating the building, Hon Kevin Rudd praised the VND310 billion (US$15.2 million) facility and the "vision and hard work" of RMIT in establishing a strong presence in Vietnam over the past 10 years.
Mr. Rudd praised the achievements of the Vietnamese Government in recent decades, including its rapid economic growth, increased life expectancy, advancement in education, increased trade and widespread access to communication technology.
He believed that Vietnam and Australia must continue to play their part to achieving regional cooperation in pursuit of stronger political and economic relations.
Mr. Rudd said young Vietnamese people had a great deal to offer their country if their own productive potential could be fully realised.
The Recreation and Events Complex (REC) and the new Residential Center were possible with generous assistance from Atlantic Philanthropies, founded by American entrepreneur and philanthropist Mr. Chuck Feeney. Country Manager and Program Executive, Dr. Le Nhan Phuong represented Atlantic.
Atlantic provided US$6.5 million towards the total cost of US$15.2 million to build the "beautiful" recreation and accommodation facility opened today, RMIT Vietnam President Professor Merilyn Liddell said.
Among the many dignitaries attending the event were Mr. Allaster Cox, the Australian Ambassador to Vietnam, Mr. Do Quoc Anh, Director at the Ministry of Education and Training (MOET) office for Southern provinces, Mr. Hua Ngoc Thuan, Vice Chairman of Ho Chi Minh City People's Committee and Mr. Nguyen Tuan, Vice-Director of the Department of External Relations. Mr. Nguyen Huu Hung, Vice Chairman of the District 7 People's Committee and Mr Truong Van Lam, Director of the Management Authority for Southern Area Development of HCMC (MASD) were also present. Also at the event were deputy directors from several government agencies, consul-generals of several countries and more than 200 students and staff.