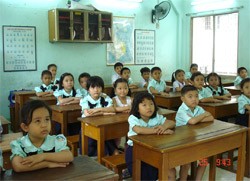 Fifth-grade pupils of Khoi Nghia primary school (Photo:VH)
Textbooks for fifth-grade were  distributed nationalwide from mid-May while those for tenth-grade are to be released in June, said Deputy Minister of Education and Training (MoET) Nguyen Van Vong at the press conference on textbooks and educational facilities for the 2006-2007 school year.
This is the first year the textbooks for tenth-grades in major divisions are published. Therefore, the quantity must be under careful consideration. By that, at least 10 percent of textbooks will be printed by the Educational Publisher in reserve to avoid the possible shortage in the coming school year.
At the beginning, a small amount of textbooks will be released to estimate students' demand. Textbooks for tenth-grades in major divisions will be brought out in bulk in late June.
As many as 83 printers in Viet Nam are mobilized to guarantee the supply of textbooks, avoiding the unnecessary shortage. Up to 64 equipment and book suppliers have come to an distribution agreement, avoiding overlapping.
The State will fund VND1,000 billion for school curriculum rennovation, announced Mr. Pham Ngoc Phuong, senior official of the MoET.
The grant, to be distributed to local agencies, seeks to equip schools and institutions with books, visual aids, and training costs for teachers and educational administrators.