The Awards Giving Ceremony of the Oxford Graded Readers Contest 2006, co-organized by Oxford University Press (OUP), the British Council and the Departments of Education and Training (DOET) of Ho Chi Minh City, Ha Noi, Hue and Da Nang, took place on July 29, 2006 at Kim Do Hotel, 133 Nguyen Hue Boulevard, District 1, Ho Chi Minh City.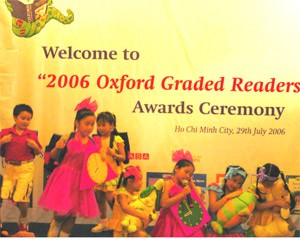 Singing performances of Nguyen Thuong Hien Primary School (Photo: U.P)
There were 29 winners including students of senior, junior high and primary schools from Tran Dai Nghia High School, Nguyen Du, Hoang Van Thu Secondary School, and Minh Dao, Hoang Dieu, Hong Ha Primary School.
Truong Hoang Minh Phương from Hoang Dieu Primary School won the special prize.
Nguyen Quoc Nam Anh from Minh Đao Primary School, a very famous pupil who received a diploma of ECCE and a certificate TOEFL with 550 marks when she was 8 years old, won the first prize in the contest.

The contest winners will receive valuable and productive prizes such as a free two-month English course at the British Council valued at US$270, free one-year British Council Information Centre memberships, portable CD players, more than 110 reading book collections from OUP and award certificates issued by OUP, DOET and the British Council.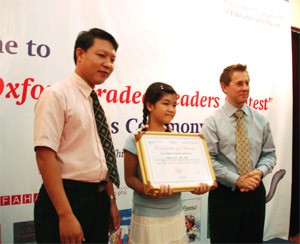 Nguyen Quoc Nam Anh was awarded the prize (Photo: U.P)
In addition, the organizing board also gave prizes to the school with many participants in the contest and those having a large number of winning pupils.
The contest was widely promoted across the country from 23rd April to 10th July 2006. The organizers have received more than 800 entries from school students throughout Viet Nam.

Participants are students of senior, junior high and primary schools who took part in the competition and interested readers.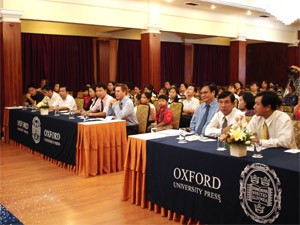 Three invited guests from DOET on the right hand (Photo: U.P)
Honorable guests from DOET are Mr. Le Ngoc Diep, head of Primary Section Department; Mr. Le Hoang Dung, Deputy-Manager of High School Section Department and Mr. Tran Dinh The Lu, an English expert. Representing OUP is Mr. Vo Dai Phuc, Head of the Oxford Publishing House in Viet Nam. Mr. Shaun Waller, Director of British Council, was also present.