Students of the Banking University Ho Chi Minh City have won three of the four team prizes of a one-month contest on accounting, auditing, finance and banking in the city. A team from the National University HCMC won the other third prize.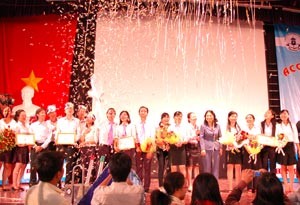 The last four teams take their prizes on the Dec 12 night (Photo: My Hanh)
The Banking University and the Vietnam representative office of the UK-based Association of Chartered Certified Accountants (ACCA) co-organized the "ACCA Futurists 2009" competition, which started in November.
The contest is organized annually to help accounting and banking students improve their skills needed for future jobs. It is also a good opportunity for them to market themselves to employers.
The final round wrapped up just before midnight of Dec. 12, with the first, second and third prizes awarded to three teams from this university.
T234 came first with a cash prize of VND20 million and four scholarships worth VND36 million for the students to undertake ACCA's CAT accounting program at the university.
The second prize of VND15 million went to Hunters, while Doan Thu Xem took a third prize of VND8 million. WAPA from the National University HCMC earned the other third prize with the same cash.
A total of VND120 million was used for prizes this year, doubling last year's number.
According to the organizers, the contest drew the participation of about 2,500 students from universities in the city, increasing by 80% on last year.
ACCA is an internationally recognized organization for professional accountants.