With a score of 37, a blind candidate, Mai Thi Tu, achieved the highest score of anybody and was admitted into the Hue Music Institute on July 22.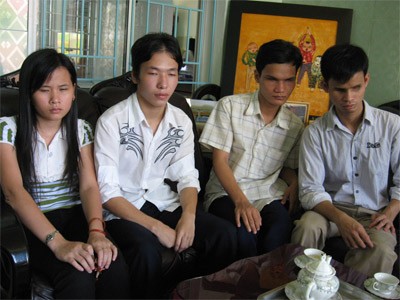 Mai Thi Tu (1st, L) and her friends take part in the university entrance exam 2009. (Photo: Dan Tri)
Ms Tu passed three exam subjects and one aptitude exam. She was also the first blind candidate to apply for a course at the institute.
On July 22, six universities announced their candidates' scores for the nationwide entrance exams. They also published the best results.
More than 2,200 candidates achieved more than 13 marks out of 30 and 910 candidates above 15, Da Lat University's enrollment board reported.
The board also said 12,202 students took the entrance exam, but only 3,060 were accepted by the university.
Ho Chi Minh City Private University of Technology also announced it scores, saying the 2009 results overall were lower than last year, with math the lowest.
Other universities said they will announce scores on July 23, such as HCMC University of Education, HCMC University of Natural Sciences, Tien Giang University, Tra Vinh University.