Audiences were touched by a song written by blind music teacher Nguyen Van Thanh which he performed recently at the Nguyen Dinh Chieu School for the blind in Ho Chi Minh City. He wrote the song as a special gift for his students.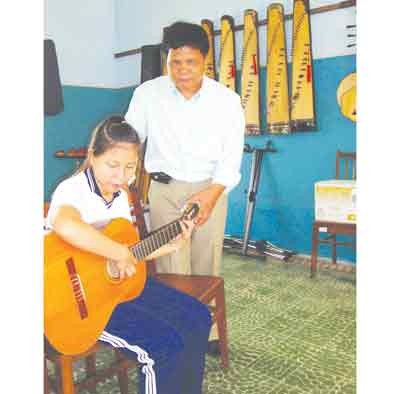 Nguyen Van Thanh (standing) helps a student at the Nguyen Dinh Chieu school for the blind in Ho Chi Minh City ( Photo: SGGP)
The song incites students to believe in a happy future despite the hardships of being blind, he says. "I just lost the light but I still have the opportunity to study and teach, and I have friends around who love me," said Thanh.
Born in 1970, Thanh lost his vision after suffering a serious illness at the age of three. He was sent to study at Nguyen Dinh Chieu School and later went on to study at Pedagogy College.
Upon graduation, Thanh applied for a teaching position at his old school for the blind, hoping to pass on his experiences to a new generation and honor his former teachers.
Fellow teacher Thanh Xuan said, "Students … become absorbed in Thanh's music and quickly learn his songs by heart."
The teacher has been honored with several awards for his performances in musical festivals over the years. And with Thanh's unwavering dedication, several of his students have also gone on to win top prizes for singing at annual music competitions held by the education sector.
Thanh's songs have even been performed at the Pacific Asia Music Festival for disabled people in Thailand, Japan and China and lauded by the international community.
Some songs, including "Teachers' words," have now been translated into English. He sings his songs with a fervor and love for life, inspiring hope in others.
Thanh wakes up early each day to catch a bus from his house in Cu Chi District and heads to Nguyen Dinh Chieu school where he works until 8PM. Despite the grueling schedule and hard work, he says he never thinks about quitting. "I [think about] my beloved pupils on the way to school and hear the laughter of my wife and baby on the way back home," he says.
"Owing the old school … I spend my whole life repaying it," Thanh sings from his song "In debt," written when he first came to teach at Nguyen Dinh Chieu school.
On November 18 Thanh received the coveted 2009-2010 Vo Truong Toan Prize for excellence in teaching.

Related article:
Crowds hail teachers at annual ceremony