The British University Vietnam project was officially launched in Ha Noi Monday in the presence of British Prince Andrew and Vietnamese Deputy Prime Minister and Minister of Education Nguyen Thien Nhan.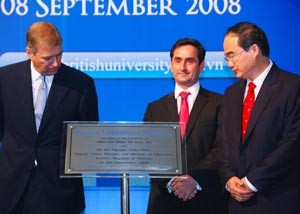 (From L) British Prince Andrew, British University Vietnam chairman Khalid Muhmood and Vietnamese Deputy PM Nguyen Thien Nhan at the university launch ceremony Monday

"We are doing more than setting up a university. We are helping change lives. We are bringing scholarships to students who can not afford to study," Khalid Muhmood, Chairman of British University Vietnam, said in an announcement.

He also said, "Until now only a small number of Vietnamese students have been fortunate enough to benefit from the UK study experience. The British University Vietnam will change that by bringing the best of British higher education to Vietnam."

"We are working with the University of London and Staffordshire University to offer students the same qualification that they would receive if they had studied in the UK."

The university will have its headquarters in Ha Noi and a branch in Ho Chi Minh City. At the beginning it will operate out of a rented facility but will then build its own premises within 3 years. The short term target is to have 1,000 students with a medium target of three times and a long term target of 10,000 students.
The university will focus on degrees in business and technology offering full degrees from the two key cooperation partners – University of London and Staffordshire University. All study programmes at the British University Vietnam will be taught in English.

Initially all lecturers will be from overseas but within five years the University plans to develop Vietnamese faculty, according to chairman Muhmood.

The British University Vietnam says the degrees offered at it are exactly the same as those offered at UK universities.

Tom Tobin, president and CEO of HSBC Vietnam said in Monday's British University Vietnam announcement, "HSBC looks forward to working with the university to develop talent for HSBC and the banking industry. We look forward to working together to provide guest speakers, internships and career opportunities."

Ian Lydall, general director of PriceWaterhouseCoopers Vietnam, said, "PriceWaterhouseCoopers awaits the arrival of the university to broaden and deepen the provision of high quality education in key subject areas, including finance."

Nguyen Xuan Luat, director of Vietcombank Ha Noi, "We are willing to work with the British University Vietnam in organizing training courses of international standards to help grow human resources in finance and banking industry in Vietnam."