The Cultural Development and Exchange Fund (CDEF) of the Embassy of Denmark in Vietnam announced to launch the Talent Prize Competition 2013 with the theme "Architectural Ideas for Improving Urban Spaces" at a press conference on March 13.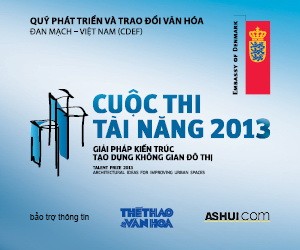 Logo of the competition
Through this competition, CDEF would like to represent a basic concept of urban planning: buildings are an instrument, but not a goal, of urban planning. The space between buildings, where communities actively exist is of greater importance.

Participants in the competition are architects, construction engineers, urban planners and landscape architects. Participants will choose a particular Vietnamese urban area, analyse the relationship between the buildings and the public space and propose a redesigning plan for the buildings by adding, deleting and/or changing the buildings to create more attractive public spaces.
A jury board includes Danish Ambassador John Nielsen, Vietnamese architect Pho Duc Tung, Nguyen Huu Thai and Danish architect Hans Peter Hagens. The winner will take a one-week visit to Denmark early 2014.
Additionally, a competition website will be available for the public to comment on and vote for the initiatives. The initiative receiving the highest votes will get the Audience Prize, valued at VND 10 million.
The Talent Prize 2013 is based upon the Danish architect Jan Gehl's notion that an urban area is normally created by a set of buildings, and its real value lies in the spaces between those buildings. Buildings contribute to defining value and feature of the space. Characteristics of buildings in terms of usefulness, appearance, materials, colour, style or kind of openness and closeness, solidness or hollowness have large impacts on the value of public spaces.
The Danish Vietnamese Cultural Development and Exchange Fund (CDEF) was established in 2006 with the aim to provide support to contemporary cultural performances in Vietnam and to cultural exchange activities between Denmark and Vietnam. The Fund has supported more than 100 projects in Vietnam and Denmark since 2006 and organized 4 Talent Prize competitions for young Vietnamese artist within art sectors such as experimental music, contemporary dance, performance art and paintings.