An "electronic school" has been put into operation on the website http://ischoolnet.qti21.com/lequydon to provide local students, teachers and parents at the Le Quy Don High School in the central province of Quang Nam with easy access to study materials, the school's activities and related information.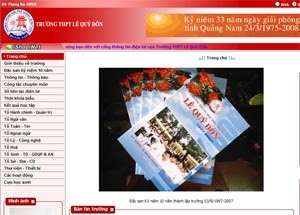 The website's layout

The electronic school was a project initiated by the Quang Nam Province's Department of Education and Training to bring modern technology into local schools.

The ischoolnet model was developed by the province's Center for Telecom and Information Technology and it is the first of its kind in Quang Nam Province. Le Quy Don High School was chosen as a pilot.

The website serves as an electronic library to provide detailed information on each subject taught at school including studying materials, lectures, curriculums and online tests. Students can also estimate their success in each test by checking the answers provided on the website afterwards.

Teachers can also be contracted through the website. The available teaching guidelines and electronic test bank on the website will help them to find better teaching methods as well as more suitable tests for students.

Moreover, by simply clicking on the website, parents can keep track of their kids' performance at school as well as information like their classes and teachers.

The project has made the school become a more modern and active environment for the teachers and their students, according to Mr. Le Van Ca, the school's Vice Principal as well as the website's administrator.