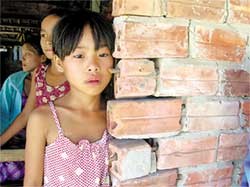 Huyen,12, is waiting for her dad Nguyen Van Bo coming back from offshore during typhoon Chanchu. (Photo:HD)
Six students coming from families badly affected by Typhoon Chanchu in the central city of Da Nang recently received exemption from the entrance examination into the 10th grade, announced the city's Department of Education and Training.
They included Nguyen Thi Thi, Tran Thi Mai An, Dao Thi Ngoc Phuong, Pham Van Xia- all from Phan Dinh Phung Junior High-school, Nguyen Thi Kim Loan from Le Thi Hong Gam Junior High-school and Phan Thi Tat Chu from Le Anh Xuan Junior High-school.
These students came from underprivileged families having been affected by Chanchu and had their relatives killed or missing in the typhoon.