Education Department and Police in northen province of Bac Giang are investigating the recent cheating malpractices during the high-school graduation examination in the province.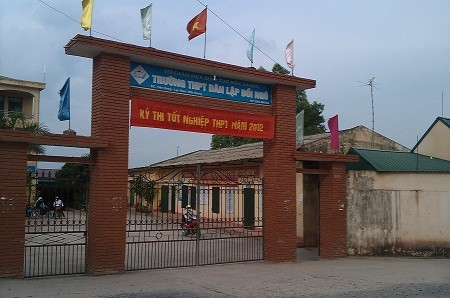 Doi Ngo private high school
Police have identified a former gym teacher of Doi Ngo Private High-School who encouraged students to make the Internet clip. The gym teacher had earlier highlighted the wrongdoings of this particular high school in 2010 to education agencies, as a result of which he was asked to resign from his job.
Than Van Khoa, chairman of the People's Council of Bac Giang Province, said that the high school will be investigated for other problems as well.
Police said they had invited the two students responsible for making the video clips as well as the concerned teachers for further questioning, adding that police will continue to investigate only if the provincial Department of Education and Training decided that someone should be criminally prosecuted in this case.
Deputy Prime Minister Nguyen Thien Nhan talked to Sai Gon Giai Phong reporters, saying that he had made an appointment with the Minister of Education and Training to discuss details of the case.
Even though he had not watched the Internet clip so far, but had heard the news on TV and read it in the newspaper, he was surprised as Bac Giang Province is not a hotbed for cheating malpractices.
Prof. Van Nhu Cuong, Principal of Luong The Vinh High School in Hanoi, said the campaign to say NO to cheating in examinations and the pursuit of achievement in the education sector was now nonexistent. He explained that 2007 was the first year of the campaign and only 66.7 per cent of students passed high school graduation exams instead of 90 per cent and above now.
At the time, some northern provinces like Tuyen Quang even reported 15 per cent, while most students of Dinh Tien Hoang High School in the central province of Quang Ngai had failed in their exam, the Prof. added
The rate reflected accurately the status of the education sector and level of students, said Cuong. However, the ministry later allowed a second examination so that more than half a million failed students could have a second chance. The second examination is now not being conducted, which is a sign of failure of the campaign.
Many educators have in recent years doubted the credibility of the impressive results of the national high-school graduation exams as at the end of every examination, cheat sheets litter school yards, proving that some exam invigilators definitely did not fulfill their responsibilities and duty.
Related article:
Internet clip of cheating malpractices under investigation