More than 100 young local teachers and Ho Chi Minh City leaders led by Nguyen Van Dua, deputy secretary of City Standing Committee, held a dialogue on professionalism, management mechanism, working conditions, and salaries in the educational system in the city on Monday.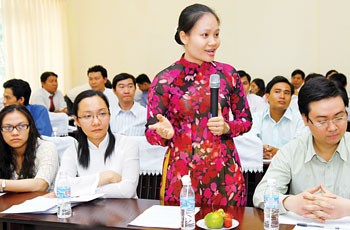 Teacher Vu Thi Hanh Thu expresses her opinion at the discussion.
"Experts said we should reform teaching methods to enhance the quality of education,"  Nguyen Tuyet Phuong, a lecturer at the HCMC University of Natural Sciences said.
"But regulations on drafting the syllabus, evaluating students' tests, and other chores take up much of a teacher's time, affecting their creativity and enthusiasm."
Students are forced to learn by rote, meaning they are only exposed to theory and little practice, many opinions participants said.
"To reform teaching methods, we should improve teachers' skills, reduce the number of students per class, improve infrastructure, and reform management" Huynh Cong Minh, director of the city Department of Education and Training, said.
Ly Thi Hong Tham, a teacher at Nguyen Trai High School in District 4, said: "I spent VND2 million to make a video clip to illustrate a subject. Students, their parents, and the school management deeply appreciated it. But I received a cash prize of VND100, 000. I think we should set up a fund to help teachers innovate teaching aids to improve the dynamics of their teaching and make it more attractive."
The city's Mr. Dua said teachers should employ available materials like CDs of cai luong drama and traditional music and take students to history museums, the Cu Chi Tunnels, the zoo to make learning more interesting.
Teaching with only heart is not enough…

Many highly educated people and young teachers have recently quit public companies and schools to work for private and foreign enterprises at higher salaries, said teacher Dang Tat Dung of the HCMC University of Law.

"The city authorities are very understanding of teacher's difficulties," Nguyen Thi Thu Ha, deputy chairwoman of the HCMC People's Committee, assured.
"The city's Department of Finance has increased overtime pay for kindergarten teachers."