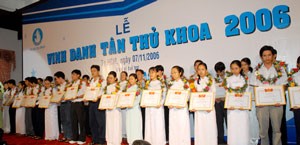 Top students in the honoring ceremony
Ho Chi Minh City's top 40 students of the year gathered at the Reunification Palace on Tuesday to receive due recognition and other rewards for their academic prowess.
Their number included high school leavers from poor families but with perfect scores in the university entrance examination.

Pham The Thong from the University of Natural Sciences and Vo Tan Dat from the University of Technology, to name two of the recipients, had scored 30 out of 30 in the three-subject examination.

Each student was given a certificate of merit, scholarship money of VND1 million, and a voucher for an English language course valued at US$200.

Tuesday's ceremony was arranged by the Ho Chi Minh City Students Association and sponsored by the foreign-owned language school operator ILA and the Asia Commercial Bank.