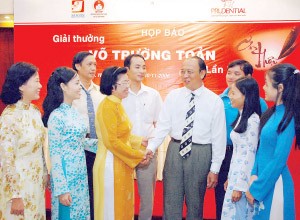 Some of the prizewinners chat at the press conference yesterday

Ho Chi Minh City's top 30 teachers of 2006 gathered at the District 3 Town Hall on Friday for a press conference held to announce this year's winners of the Vo Truong Toan Prize for creative and innovative teaching.
Their teaching experience ranges from six years way up to 33 years. Ms. Nguyen Kim Dinh, who teaches biology at Dong Khoi Junior High, and Ms. Nguyen Thi Thu Huong, a literature teacher at Bui Thi Xuan High, to name two of the recipients, are credited with revitalizing their students and instilling a zest for learning.
At the award ceremony at City Hall on November 20, each teacher will receive a certificate of merit, VND5 million in cash, and bouquets of praise.
Speaking at the press conference, deputy editor-in-chief of Sai Gon Giai Phong Tran Van Tuan hailed the teachers for their invaluable contributions and said his newspaper was honored to bestow the annual Vo Truong Toan Prize.
"The prize is not just for the winners' benefit; it shows that we respect and love all teachers who dedicate their lives to education. My hope is that the Vo Truong Toan Prize will continue its role as a motivation for teachers to wholeheartedly play a part in the growth of national education in the years ahead," the newspaperman said.
The award ceremony for the ninth Vo Truong Toan Prize will be held by the Ho Chi Minh City Education and Training Department and sponsored by Sai Gon Giai Phong and the life insurance firm Prudential.