To facilitate a better and more effective learning environment, Luong The Vinh Public High School in Ho Chi Minh City has become the first in the country to apply 3D technology in teaching subjects like physics, chemistry, geography and biology to students.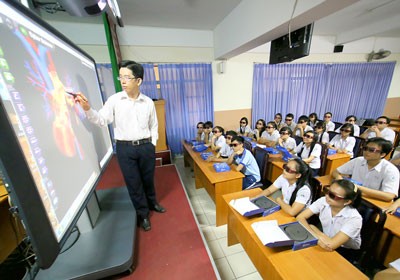 A biology class uses 3D technology in Luong The Vinh High School (Photo: SGGP)
Twelfth grade students of Luong The Vinh High School in District 1 were astonished to see the structure of HIV virus so vividly on screen in their biology class.
Their lessons on atherosclerosis in the coronary arteries made them see the four heart chambers, blood circulation, and cholesterol molecules in a realistic manner for the first time.
The 3D technology helped them understand the lesson and memorize it faster and better. 
After the biology class, student Truong Huynh Thuy Tien, said this is the third time she has learnt via 3D technology and each times finds it most interesting.
Other students also expressed the same views in physics, chemistry, geography and technology classes. Not only students, but also teachers are enjoying teaching by this technique. Geography, which can be boring, has now suddenly become easy to understand for students.
However, it is very hard for a state-run senior high school to make such breakthrough in learning and teaching methodology. It started in the academic year 2008-2009 with the support of student's parents.
At present, the school has six boards with 3D technology and three boards with 2D technology. Total investment for a class with new 3D technology is VND400 million (US$19,000) and parents contributed half the amount.
The school has a total of 62 classes with more than 3,000 junior and senior students; hence not all have a chance to enjoy a 3D lesson. The school is striving to build two more classes to serve more students.