The new school year opened with the failure of the education sector to supply sufficient teachers for HCM City's elementary schools. To cope with the situation, many districts have had no choice but assign the task of teaching elementary pupils to freshly graduated nursery or junior high school teachers.

Binh Chanh District had to send more than 30 freshly graduate nursery teachers to a crash course, through which they were supposed to be equipped with necessary skills and experience to teach elementary pupils.

Unlike Binh Chanh, Cu Chi District had more junior high school teachers than it needed, so those extra teachers have been transferred to elementary schools throughout the district to fill vacancies.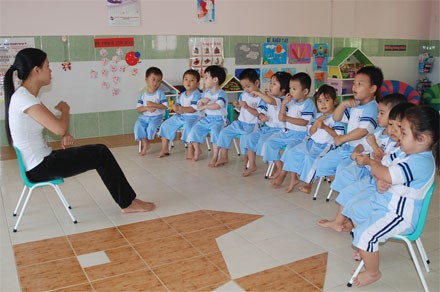 This nursery teacher may have to teach elementary pupils due to the city's current shortage of elementary teachers. (Photo:SGGP)
Other districts like Thu Duc, Tan Phu and Nha Be had to resort to retired teachers. In some schools, even members of the management board had to take charge of the task of teaching so as to meet critical demand.

Although all new teachers are trying their best, parents are concerned about the quality of inexperienced teachers, as every level of education has its own specific characteristics and requirements that need teachers who are primarily trained for it.

Le Ngoc Diep, head of the Elementary Education Office, part of HCM City's Department of Education and Training, said that despite limitations in knowledge, nursery teachers have advantage over junior high school teachers in teaching elementary pupils, as they can understand the nature of children and their needs better.

"Part of their profession is designed to study the psychology of kids," he emphasized.

Many junior high schools teachers who take charge of teaching elementary classes said they were embarrassed when pupils told them that they needed to go to the bathroom or eat something because they were hungry. Teachers have also had to deal with arguments or fights between the children, though they have not been trained to cope with such situations yet.

People have been asking as to why the shortage has occurred. Many education experts blamed the sharp increase in the number of elementary pupils and for the boom in private elementary schools in the city.

They pointed out that private schools have lured a large number of teachers because the number of pupils in each class is only half as much as in public schools.

While a public school needs a teacher for a class of 50 pupils, a private school has classes of 25 per one teacher.

To prepare for the new school year, the HCMC Department of Education and Training has recruited more than 100 elementary teachers.

Since the new recruits could not meet the demand, the department has recently issued another job advertisement in an effort to look for more candidates by September 20.

The existing situation is in marked contrast to that of ten years ago when the supply of elementary teachers overtook demand. Regardless of their love for children, many teachers at the time had no choice but to quit their chosen career because they could not find a teaching position.

In an effort to supply qualified elementary teachers to their schools, districts are working with universities in the city to launch elementary teacher training programs.

The Education Office in Nha Be District is cooperating with the Saigon University. Thu Duc and Binh Chanh's education offices are working with HCMC University of Pedagogy.

Candidates who successfully complete the training program will be awarded a Bachelor's degree.

Nguyen Trong Cuong, head of the Education Office of Thu Duc District said, "We can't wait for the supply of qualified teachers from the city's Department of Education of Training. At present, some 180 candidates from the district are participating on such a course. The number of would-be teachers will be able to meet the district's demand in 2011."