Le Thanh Hai, Party Committee Secretary of Ho Chi Minh City, had a meeting with deputies in District 5 to discuss the problem of exorbitant enrollment fees and private tutoring by teachers.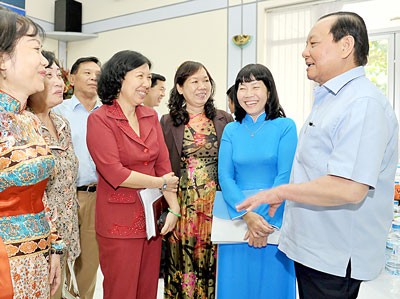 Party secretary Le Thanh Hai and deputies at the meeting to discuss educational issues (Photo: SGGP)
Representatives from the Bureau of Education and Training of District 5 said private tutoring is under head master's jurisdiction, and s/he can   impose penalties on teachers who violate regulations by providing private tutoring. Concerning the practice by some schools that collect more supplies than required, school representatives said parents pay all fees willingly.
Nguyen Vinh Xuyen from Ward 3 of District 5 said overloading curriculum forces pupils to go for private tutoring and teachers' low salary pushes them to organize outside classes. Tran Xuan Nung said the problem is that such outside classes should be organized for weak students only.
Government should impose penalties on teachers who intentionally give their students low marks in order to convince pupils to take part in extra classes at teacher's home, said one retired man.
In addition, teachers often run extra classes out of their home and create extremely difficult in class tests so that pupils who do not receive private tutoring will be unable to pass the exam.
Representatives from the School for Disabled Children said they were facing acute shortage of personnel. She proposed special policies for teachers in such schools to encourage them to continue with their teaching careers.
Le Thi Bich Ha, a union chairwoman of a preschool, proposed city leaders should have a policy to support teachers in purchasing a house of their own.