A project to teach traditional musical instruments and folk music in primary schools had been lost in oblivion in the last ten years since implementation, but seems to be reviving now.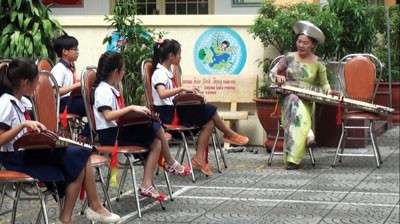 Tran Binh Trong Primary students learn to play Vietnamese zither (Photo: SGGP)
Ten years ago, the project to teach traditional musical instruments and folk music in primary schools was initiated by Professor Tran Van Khe.
At that time, although only 20 selected primary students, in Tran Hung Dao Primary School in District 1, joined in the project, it had attracted parents' attention.
However, the project later fell into oblivion.
Despite difficulties in teaching and facing parents' indifference, the City is still determined to continue the inclusion of this teaching as a subject in school curriculum in a bid to push for heightened love for the country and traditional cultural values.
The academic year 2012-2013 is the first school year to mark the revival of the project as City leaders have decided to implement teaching of traditional musical instruments and folk music to young students of primary schools.
Many traditional musical clubs are set up in primary schools in the City. Le Thanh Hai, Head of Minh Dao Primary School in District 5, said the school's traditional music club has more than 50 members who are taught to play folk musical instruments, songs and perform in school festivals and special days such as the school's opening ceremony, Teacher's Day and closing ceremony.
The clubs will get together every Friday and Saturday afternoons at Tran Binh Trong, Bau Sen and Minh Dao schools. Third and fourth graders of Phan Dinh Phung Primary School in District 3 will study Vietnamese zither or 16-chord zither traditional musical instrument once a week with a famous actor.
One parent even said his daughter is very interested in learning folk musical instruments as she can see and play on real instruments with well-known artists.
Supporting the movement, the participating schools will organize musical festivals and competitions as well as invite famous traditional music groups to perform in schools for young students.
Nonetheless, the clubs also encounter difficulties such as limited funds and teachers' lack of knowledge. Nguyen Thi Kim An, Head of Tran Binh Trong Primary School, said that the school has to ask the support of parents as traditional musical instruments cost a lot of money. In addition, some teachers are not well trained in folk music.
Teachers expect the Department of Education and Training to open more refresher courses on folk music and provide financial support to participating schools.