After Sai Gon Giai Phong reported the An Hoi Primary School in Ho Chi Minh City is overflowing with three times the number of students that Government regulations allow, the district Peoples' Committee Deputy Chairman Nguyen Hong spoke to SGGP about plans to resolve the issue.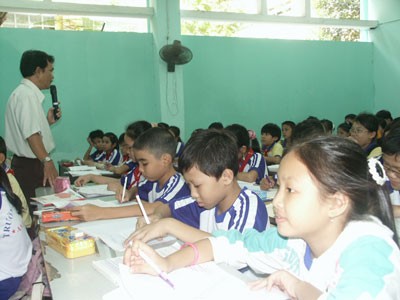 An overcrowded class in the overcrowded An Hoi Primary school (Photo: Le Linh)
Mr. Hong said the increasing student population was hurting the Government's plan to improve the country's education and teaching quality, but that it would take time to solve the continuing problem of crowded schools.
HCM City's Go Vap District, where the An Hoi Primary School is located, convened a meeting October 29 with the participation of several agencies to find solutions to the problem. The school is now bursting at the seams with 103 classes and more than 5,300 students.
Participants at the meeting proposed transferring around 1,000 An Hoi students to nearby Luong The Vinh School, said Chairman Hong.
The number of students per class would have to be increased from 35-50 at Luong The Vinh, however, and some rooms would need to be converted to make up to six classes. An Hoi students would be transferred after finishing first-semester exams to avoid disruption.
The district will also repair seven temporary classes which An Hoi has had to borrow from nearby secondary school Pham Van Chieu. Using makeshift dividers, An Hoi has separated a dark, narrow area at Pham Van Chieu into more rooms for children to study.
The deputy chairman told reporters his district would begin construction of the Lam Son Primary School for the next school year to help ease the burden of An Hoi staff and students.
The Sai Gon Property Company has agreed to provide 29,000-square-meters of land to build more schools, while the district has prioritized construction of the first school on 10,000 square meters.
Along with the new primary schools, teachers will receive more financial support from the sector and the Government, said Mr. Hong. He said he also expected to see more support from city officials in completing formalities to build more schools.
Following a series of Sai Gon Giai Phong articles about long-delayed education projects and a lack of schools in Ho Chi Minh City, deputy chairman of the city's People Committee, Hua Ngoc Thuan, issued a directive to district sub-divisions to immediately accelerate construction projects for the education sector. The Department of Investment and Planning has been instructed to provide capital for the projects.
Related article:
City school grapples with skyrocketing population