Teaching and studying Marxism-Leninism and Ho Chi Minh's ideologies are especially important for political science schools, however, they are facing many difficulties to enhance educational quality.
SGGP talked to Dr. Tan Xuan Bao, deputy headmaster of the Cadre School of Ho Chi Minh City about the issues.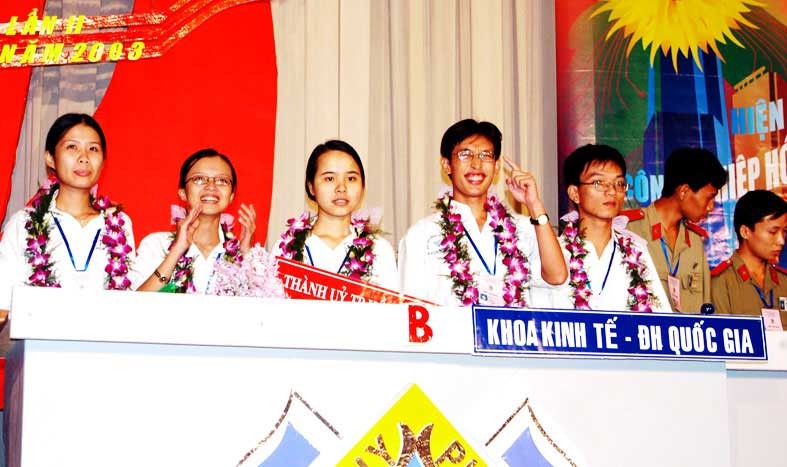 Students from Vietnam National University – Ho Chi Minh City at a Marxist – Leninist philosophy and Ho Chi Minh's ideologies competition. (Photo: SGGP)
Dr. Bao said the subjects of Marxism – Leninism and Ho Chi Minh's ideologies not only help students understand theory but also provide real issues of revolutionary theory and science to renovate the world. The subjects also change theory into thought, and the ambition of State cadres become one of trust and power to build a socialist country.
Many people said that it is difficult to learn and understand Marxism – Leninism, as it is a dry subject.
Dr. Bao agreed with such opinions, but said there are some reasons that make these subjects dry and difficult to learn.
Dr. Bao agreed that many students from cadre schools were asked to study Marxism – Leninism by their provinces, therefore, many students were not interested in the subjects. In addition, they do not have to pass entrance exams and pay fees, which also influence educational quality of the subjects.
Dr. Bao said students from the Cadre School of Ho Chi Minh City have various careers, positions and experiences. Some students do not have the motive and attitude for the subjects and they would rather cram for an exam than truly understand the subject.
They are limited in their scope to apply the values of Marxism – Leninism into real work, Dr. Bao added.
If students come to school regularly, educational quality will be better so the city cadre school used many methods such as taking a roll call and giving more tests and exams, however, many students both study and work so they do not have time to revise for lessons and go to school regularly, Dr. Bao said.
If students are asked why they study political science political they often reply that it is the way the subject is taught, followed by the love of the field, then real life application of the subject. Not roll calls or testing, Dr. Bao said.
Dr. Bao said that to create an attractive subject for students, teachers should not teach too much theory, and students need concise, condensed lectures, with an emphasis on practical examples, diversifying courses and renovating training methods.
Teachers have to have a knowledge of life, ideals and a strong belief in the Party and State's direction.
Many teachers in the city's cadre school have such commitment and become good, logical thinking teachers.
Dr. Bao said if teachers really love their job, have responsibility, life experiences and knowledge, as well as updated information, they will accomplish their lectures well in spite of any situation.
Dr. Bao said the school needs to check training programs, then apply teaching and studying methods in Marxism – Leninism effectively, then apply it to real life and the Party and State.
Currently, the school is trying to innovate teaching and learning methods in order to enhance skills, and strengthen determination and theoretical application into real life situations, Dr. Bao added.