A total of 165 students from HCM City were praised for their achievements at the Saigon Opera House, July 22.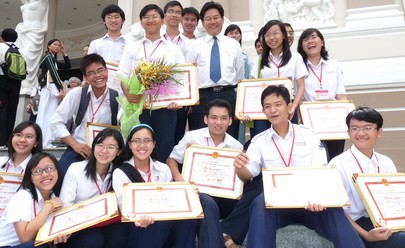 The city's top students gather in front of the Opera House (photo ; Tuoi tre)
The students include an 11th grade student, Nguyen Pham Khanh Nhan, who is from a high school for gifted children and won the silver medal at the 20th International Olympiad in Informatics (IOI), which was held in Egypt in 2008.
In addition, Ho Chi Minh City People's Committee also applauded 3,460 of the city's brightest pupils.
The city's vice chairman, Nguyen Thanh Tai, and teachers attended the ceremony.
The vice chairman said these students were exemplary models for learning, as they try hard to learn, as well as practicing ethics to serve the country.
Mr. Tai proposed that educational leaders need to do work out policies to encourage bright students and provide special bonuses for teaching staff.