Among the many proposals to make tedious and boring history more enjoyable and appealing to the young, is the idea to turn it into pictorial books, which so far has been successful in that it has brought history closer to the public, and effectively bridged the knowledge gap in this subject.
 
From comic illustrations…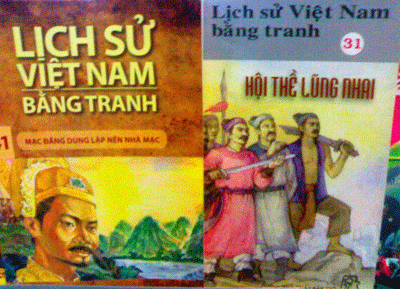 A comic series on Vietnamese history by Young Publishing House (Photo by Thanh Tam)
Although pictorial books in Vietnam are mostly foreign and focused on entertaining topics such as violence, horror or sex, 70 per cent of the young still choose them over other books. Recognising their enormous potential, local publishers have decided to deliver to young readers a series of educational comics, starting with history, in order to make it more interesting.
Taking this initial step was Tre Publishing House with a 50-book series retelling the comprehensive history of Vietnam from primitive times till now, under the title 'Lich Su Vietnam Bang Tranh' (Vietnamese history in pictures), which was published in 1997. Following the lead was Kim Dong Publisher with the series titled 'Tranh Truyen Lich Su Vietnam' (Illustrations of Vietnamese history).
Vietnam Education Publishing House also had two books, namely 'Trung Nu Vuong Khoi Nghia Me Linh' (Queen Trung and the Me Linh revolt) and 'Hai Ba Trung Va Cuoc Khoi Nghia Chong Quan Xam Luoc Nha Han' (Trung sisters and the revolt against Han aggressors).

Even though these books were carefully written and designed, with the aid of famous scholars like researcher Tran Bach Dang, they were only considered illustrations for history textbooks because of their low entertaining characteristics and were not very warmly welcomed by young readers.
… to historical comic books
The first successful history comic series in Vietnam is 'Than Dong Dat Viet' brought out by the Phan Thi Educational Media and Entertainment Company. It has good funny content as well as hilarious illustrations. After this is another series called 'Truyen Hay Su Viet' (Interesting stories from Vietnamese history) by the same company, particularly targeting young children with its Manga-like pictures, plus bright and lively content.

Lately, Kim Dong Publisher has released its series named 'Truyen Tranh Lich Su Vietnam' (Comic book on Vietnamese history) aimed at adolescent readers.

Thanks to its realistic drawing style and well written content, most pictures in these series look like artistic creations. This, according to many readers, has marked the first Vietnamese style of comic books.

Along with pictorial books on Vietnamese literature and great people in history, these historical series are playing an effective role in helping the young learn a boring subject with ease. They also make comics seem more educational and appealing, which formerly were not favoured by parents for their children.