The Ho Tram Project Company and MGM MIRAGE brought two of Macau's leading chefs to Hanoi for a culinary training program for underprivileged students at the Know One Teach One (KOTO) training facility near West Lake on July 7 and 8.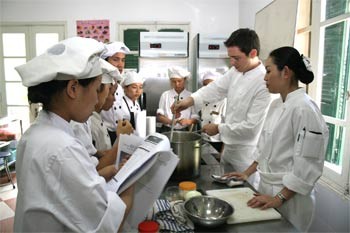 Chefs Antoine Perray and Dao Thi Hong Trang from Macau trained disadvantaged students at KOTO in Hanoi on July 7 and 8. (Photo: Courtesy of TPQR Vietnam)
Frenchman Antoine Perray and Vietnamese Dao Thi Hong Trang taught a number of French dishes to the 30 budding chefs. At the conclusion of the course, the students showcased their new skills at a VIP reception held at KOTO's Café Hideaway.
"I feel very happy and lucky about the chance to learn from such talented and famous chefs," Hoang Viet Linh, a 12th grader, said. "I enjoyed learning new skills and recipes, especially the desserts, which Chef Antoine taught us." 
"I am very happy that I have been able to come and share my knowledge and experience with the very talented KOTO trainees," Mr.Perray said. "I particularly enjoyed the opportunity to learn more about Vietnamese culture and people. This has been a great experience for me."
KOTO is a hospitality and English program study for disadvantaged children founded by Vietnamese-Australian Jimmy Pham and a group of Australian volunteers.
KOTO is recognized for its effective grassroots development project that is breaking the cycle of poverty amongst street and disadvantaged youth.