The key tasks for the education and training sector in 2009-2010 are to improve management skills and enhance training quality, said the Minister of Education and Training, Nguyen Thien Nhan, August 5.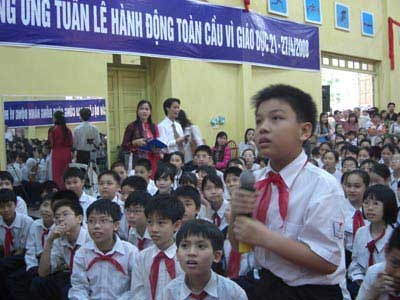 Students from Thang Long Secondary School in Hanoi take part in the world's biggest lesson last year. (Photo: VNN)
The education and training sector will try to crackdown on cheating in exams and improve achievements in secondary and pre-school education in the 2009-2010, he said.
The education and training sector also needs to concentrate on reducing poor educational levels and the dropout rate of students, he added.
The ministry will organize many activities in the school year, such as a month of encouraging study from September 2 to October 2.
Until November 15, the ministry will require schools to provide students with enough to eat, clothes to wear and books to read.
The ministry will also pay attention to enhancing management quality, as well as changing pedagogy skills by reducing learning by rote.