Statistics conducted by the Department of Oversea Training under the Ministry of Education and Training, the number of Vietnamese students going abroad for studying was 120,000 in 2015, most of them pay for their learning in foreign countries.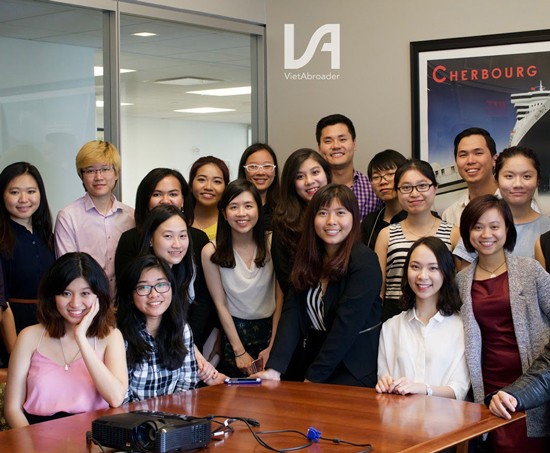 Vietnamese students study in schools in the US (Photo: SGGP)
The matter is that how to attract these young students to return home to work after graduation?

Lately, the number of students in schools for gifted students in Ho Chi Minh City and Hanoi has escalated drastically. In HCMC, even half and one-third of total students in a class go abroad for studying.
They decided to study in foreign countries as early as possible because they want to soon integrate with the new learning environment and have good preparation for the university entrance. Their decision has mostly received all support from parents and teachers.

Managers and teachers of Le Hong Phong Senior High School in HCMC's district 5, a well-known school for gifted students, are proud of their students who won scholarships from famous universities in the world for years.
Le Hong Phong School Vice Principal teacher Tran Duc Huyen said that of 160 students go abroad to learn per year, many students received enormous scholarships of prestige universities in the world; for instance, lately Tran Thi Dieu Lien has won the US-based Harvard's full scholarship worth VND7 billion (US$ 313,880). Additionally, many of them gained scholarships from Japanese universities.

Similarly, hundreds of students from Tran Dai Nghia High School go abroad annually. According to a survey, up to 60 percent gifted Vietnamese students dream of learning in foreign countries.

In three recent years, the number of Vietnamese students escalated dramatically compared to ten years ago. Most of them decided to study in the US, Australia, Britain, Canada and Japan and some of them chose a university in European countries like German, Holland or Poland as tuition fee is affordable. In 2015, 28,524 Vietnamese students enrolled in schools in Australia. In two recent years, it saw a soar of Vietnamese students going to the US and Japan.
According to the Japan Students Services Organization (JASSO), in 2015, 38,882 Vietnamese students were admitted into school in Japan, an increase of 50 percent compared to 2014. Vietnamese students flocked to Japan because Japan has preferential enrolment policies for students from Southeast Asian countries including Vietnam.

The US schools has seen an escalating number of Vietnamese students with 19,000 ones in 2015. Each student must pay a tuition fee of US$30,000 a year a head, hence, the US receives US$600 million per year. Rich Vietnamese families are willing to spend billions of dollars a year for their children's study abroad. It is forecast that the trend to go abroad to learn will increase for next time.

Educationists assess that the rate of Vietnamese students achieving success in foreign countries is high as they are smart and good at natural science subjects namely Maths, Chemistry.

Teacher Huyen said that most students expect to return to the country to work. In fact, many of former students of Le Hong Phong have returned home after graduation from universities in Japan and Britain.

Furthermore, according to VietAbroader, a non-profit organization set up by overseas Vietnamese students, many students of economy and business universities want to return to the country to try themselves in new occupations such as Supply Chain, IT or education organization while students of engineering subjects often receive good remuneration of companies in foreign countries so they linger at alien nations for a while.

Accordingly, if the government has good policies and working environment, these gifted students will return to the country to contribute greatly to the country's growth.