On  the occasion of  'International Day of Persons with Disabilities' on December 3, Dong A University in Da Nang City has launched an IT training program for disabled people, similar to the successful initiatives taken in Hanoi and Ho Chi Minh City.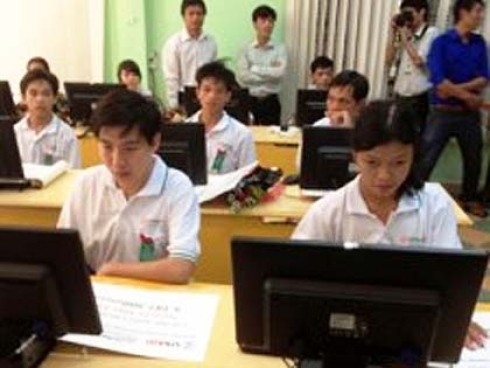 Disabled students learning IT skills at Dong A University (Photo: Courtesy USAID)
The first class of 28 students at Dong A University has begun training in graphic design and web development, and more students are being recruited for additional classes.
Dong A University will also establish a scholarship fund for disabled students and raise funds from other sources to ensure they continue with their training, even after the program ends.
The IT Training Program is funded by the United States Agency for International Development (USAID) and implemented by the Catholic Relief Services (CRS). Under the program, 250 disabled students will receive scholarships for IT training at the Dong A University until 2014. 
The program fund amounts to VND8 billion (US$384,154) and Dong A University has contributed around VND2.7 billion ($130,000).
Since 2007, USAID and CRS have collaborated with the Hanoi College of Information Technology and Van Lang University in Ho Chi Minh City to provide training in advanced computer skills, such as graphic design, 3D and web development, for young people with disabilities from all over Vietnam.
While studying IT skills, students also receive support for board and lodging, training in soft skills and job placement. Following the success of this program in Hanoi and HCMC, USAID and CRS agreed to expand this program to Da Nang City, to bring vocational training opportunities in advanced IT to central Vietnam. Dong A University was selected as training base.  
The program has so far trained more than 700 disabled students in Hanoi and Ho Chi Minh City. Training curriculum is designed with an intensive input from employers, with more than 80 percent students finding jobs.
Employers also offer placement during the training program for internships to help students gain hands-on experience.