The Dong A College has launched an 8,000sq.m open-air library for students and the community – the first of its kind in this coastal city and the central region.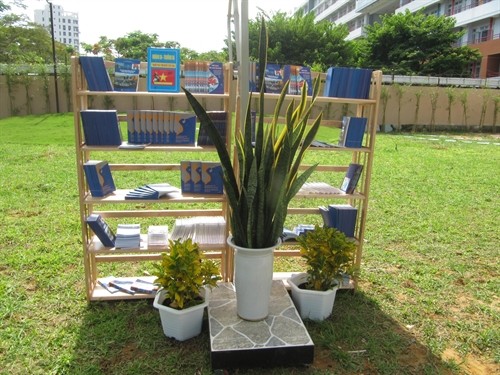 Favorite destination: The first open library is introduced at Đà Nẵng City's Đông Á College, with a free and cool reading space for students, residents and tourists. — VNS Photo Công Thành
It's also the first college in Đà Nẵng to offer a free reading space for the community in the 11,000sq.m newly constructed college.
The college has also opened a digital library for students in the 10-storey building.
The chairman of the private Đông Á College, Nguyễn Thị Anh Đào, said they aimed to develop the open library as a favourite destination of the local people, tourists and young people who want to read and borrow books.
The college has also introduced three bookcases with topics such as Việt Nam's sovereignty over Hoàng Sa (Paracels) and Trường Sa (Spratly) archipelagos, safe food and environment and life skills in the open library.
Earlier this year, the college opened its first reading space, the Green & Brown Bookstore, with 10,000 books, comprising a library, a bookstore and a coffee shop on Trần Cao Vân Street.
The private college and William Angliss Institute from Australia have started a personnel training programme for the hospitality, tourism and culinary arts sectors for the 2016-17 period, as well as Japanese language training in co-operation with Route Inn Group from Japan.
The central city also plans to build the first public book park for the community in Sơn Trà and to design a book street to boost the reading habit among young people.