Internationalization of German universities is one of the goals the German Academic Exchange Service, better known as DAAD, is carrying out. Going hand in hand of the program are efforts to promote young foreign elites to come to German universities and research institutes.
The DAAD is a self-governing organization of German universities and it currently includes 229 member universities.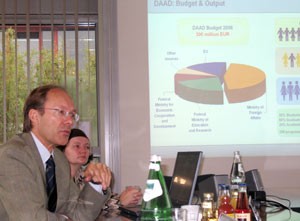 Christian Müller makes a point about DAAD efforts in Bonn on Nov. 27, 2008 (Photo: Tuong Thuy)
Christian Müller, communications and marketing director of the DAAD headquarters in Bonn, says that his organization's 2008 expenditure for the program of internationalization of German universities is 60 million euros. He adds this year's DAAD scholarships for foreigners to study in Germany are equal to 68 million euros; and for the goal of promoting young Germans in their studies and research abroad, including ERASMUS, about 83 million euros is set aside as scholarships for German students.
Erasmus is a European program that enables higher education students, teachers and institutions in 31 European countries to study for part of their degree in another country.
Also according to Mr. Müller, the DAAD's 2008 expenditure for educational cooperation with developing countries including Vietnam is 51 million euros. Additionally, 37 million euros is the sum the DAAD is spending this year ppromoting German studies, German language and studies programs at foreign universities.
In all, the DAAD has about 300 million euros in expenditures this year to carry out its goals. Mr. Müller says his organization's total spending for 2009 would not go down.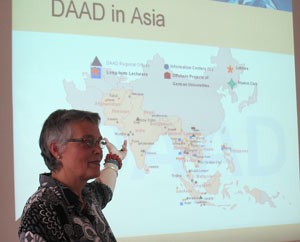 Hannelore Bossmann introduces the DAAD network in Asia in Bonn on Nov. 27, 2008 (Photo: Tuong Thuy)
Ms. Hannelore Bossmann, head of the DAAD's South and Southeast Asia Section, says the DAAD's 2007 expenditures totaled 280 million euros, 20 million euros lower than this year.

Since the mid-1990s and the conception of two "Action Programs", the DAAD has developed a number of institutional structure-building programs which aim to make German higher education, science and research more attractive to international students and academics. These programs serve to improve the content of study and research offerings, to make improvements to the legislative frameworks for foreign guests, and to professionalize the information and marketing activities of German higher education institutions.
Bloomberg reported that on Oct. 22, 2008, German Chancellor Angela Merkel convened an "education summit" with the aim of improving Germany's schools and redressing a shortage of skilled workers, issues already resonating before next year's national election.
According to Bloomberg, Ms. Merkel was scheduled to bring the federal education and labor ministers together with the prime ministers of Germany's 16 states, which have jurisdiction over education policy, to hammer out a strategy for overhauling the system in Europe's biggest economy. The chancellor says the aim is to make Germany an "education republic."
She has made education one of her main themes for the election scheduled in September 2009, Bloomberg reported.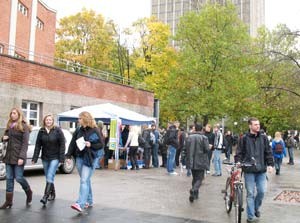 Students at the Karlsruhe Institute of Technology in Karlsruhe City, Germany (Photo: Tuong Thuy)
DAAD and Vietnam

In Vietnam, the DAAD is operating a regional office in Ha Noi and an information center in Ho Chi Minh City. In 2003, the DAAD signed a government scholarship program with the Vietnamese Ministry of Education and Training, with the objective being study or research at German university that leads to Master or doctoral degree. The target group are young university academics and government employees. The scholarships and fellowships are for Master and Ph.D. studies, and research grants.
In terms of financing, the DAAD pays for German language courses between two and eight months, and annual study and research subsidies. The ministry of education covers travel cost, monthly allowance, and health insurance.
The current number of Vietnamese scholarship holders is 72, says Ms. Bossmann, head of the DAAD's South and Southeast Asia Section.
The DAAD's funding priorities for Vietnam include promotion of young university academics and scientists; German studies and language at selected universities; university cooperation; support for offshore projects of German universities, alumni network expansions; and marketing activities.
The DAAD has so far counted slightly more than 3,800 Vietnamese alumni in the scholarship program, with 35% of them in engineer (the highest rate), 21% in mathematics and natural sciences, 18% in law, economics and social sciences, 11% in language and cultural sciences, 10% in veterinary medicine, agriculture, forestry, and food sciences. The other alumni have studied medicine, arts, music, sports sciences and other subjects.
According to the German Federal Statistics Office, German's 10 most favorite universities for Vietnamese in the 2006/07 academic year were Technical University of Dresden, Technical University of Berlin, University of Hannover, University of Leipzig, Bremen University of Applied Sciences, Technical University of Munich, University of Magdeburg, Humboldt University Berlin, Free University of Berlin, and RWTH Aachen University.