Three years after being launched in the northeastern province of Thai Nguyen "Support to Arts Education in Primary Schools," a Danish-assisted project was initiated in Hanoi in April.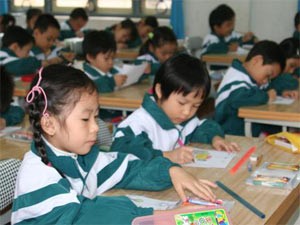 An art class at a primary school in Hanoi. Denmark is providing US$620,000 to train art teachers and improve arts education in Vietnamese primary schools.(Courtesy of Danish Embassy)
It seeks to equip primary school teachers to educate children in arts by combining artistic skills with innovative teaching methods.  
It focuses on capacity development of one or two teacher training colleges in terms of teaching methods, development of teaching materials, training support. 
The project in Hanoi is organized jointly by the Ministry of Education and Training, the Danish embassy, and the National University of Art Education.  
On April 8 a representative of Denmark's University College Sjaelland and the director of the National University of Art Education signed an agreement for its implementation as part of Denmark's support to cultural development in Vietnam in the 2006 -10 part.  
The European nation will provide almost 3.5 million kroner (US$620,000). 
Since 2006 a pilot project has been carried out by the Thai Nguyen Teacher Training College and Vordingborg College of Education, Denmark, with in-service training provided to 48 art teachers in the province. Workshops have been held to train them in new teaching methods and apply to the art curriculum at primary schools.