The deputy Prime Minister and Education and Training Minister, Nguyen Thien Nhan, praised the southernmost province of Ca Mau for its initiatives to help poor children get to school.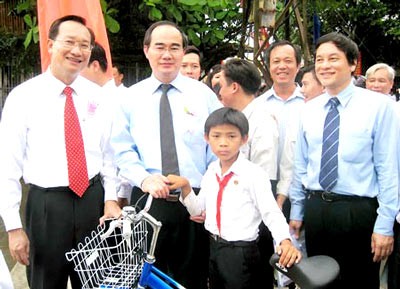 Deputy Prime Minister Nguyen Thien Nhan (2nd, L) and Ca Mau Province officials present a bicycle to a poor pupil at the province's Education Fair (Photo: SGGP)
At present, Ca Mau has 495 schools, with 98 percent of children going to school at their proper ages.
Ferries are the main transportation in Ca Mau, as it has many rivers and streams. Many students have quit school because their families cannot afford to give them ferry fares.
One-third of students, who have stopped going to school, have quit school for this reason.
To help poor students continue to go to school, the province has called upon organizations and individuals to contribute to a fund, which provides transport fees to 13,000 pupils, at a cost of VND20 billion per school year.
So far, 13 organizations have contributed VND26 billion to the fund for the 2009-2010 school year, among which, Him Lam Company donated VND15 billion and the Vietnam Oil and Gas Group VND5 billion.
The program is planned to last three years. During this time, Ca Mau will build rural transport systems so that pupils can go to school by other means rather than ferry.
On the occasion of the province's education fair, beginning from August 28, Deputy PM Nhan officially recognized that the province's education meets national standards on universalizing education.
For their endeavors, President Nguyen Minh Triet conferred a second-class Labor Medal to the Ca Mau Department of Education and Training and Thai Van Long, director of the department.
On this visit, Deputy PM Nhan awarded a Certificate of Merit to the province's Party Committee Secretary, Nguyen Tuan Khanh, for his hard work in instructing and assisting the province's education.
At a meeting with Ca Mau's Party Committee and People Committee, in relation to the province's suggestion for building a vocational school, Deputy PM Nhan said existing vocational schools had not met the country's personnel demands.
Therefore, he said, in the coming time, the establishment of vocational schools will be approved based on the occupational demands of each area.
The Government's investment in vocational schools will concentrate on improving students' skills so they can be qualified to work right after graduation, he added.