The HCM City Fatherland Front on March 31 held a workshop concerning school finance issues and education of disadvantaged children.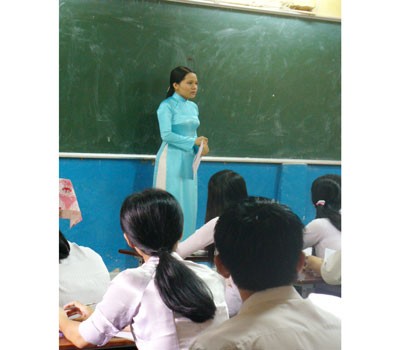 English class at Tran Khai Nguyen High School. It used to be semi-public school, but has reverted back to being fully public. (Photo: U. Phuong)
According to the HCMC Fatherland Front, various educational establishments have provided some help, after Government calls, to educate children from poor backgrounds.
Private or semi-public training centers have helped to reduce the burden of any cash-strapped government, crowded classes and provide schooling to pupils who failed in the national entrance examinations.
Although self-financing public institutes must generate enough income to finance themselves, the Government still pays for teacher's salaries and facilities.
Some schools have complained about their financial difficulties brought about teaching in areas of poverty, said Dang Duc Dung, a member of education survey team.
The board of the pre-school Nhieu Loc, Tan Phu District, said that the school will shut if the Government cuts off funding. 
The director of the Department of Education and Training, Huynh Cong Minh, responded that there has been a year-on-year increase in Government's spending on average of 20 - 22 percent.
Under the Education Act, 2005, there are two educational forms: public and private training centers.
Semi-public establishments must convert into self-financing public institutes. Such schools can take financial decisions but the department of education issues curriculum.
Some self-financing public institutes are located in deprived areas, with teachers devoting much time on students from difficult backgrounds.
Teachers at these schools face many difficulties although they receive about 30 percent of government funding.
Teaching staff at self-financing public institutes suffer lots of pressure and complained about insufficient salaries which do not reflect their hard work.
Some self-financing public educational establishments have asked to revert back to public finance.
The deputy chairman of Fatherland Front in District 3, Nguyen Xuan Tung, said that his district proposed to transfer two self-financing public schools, Phan Sao Nam and Kien Thiet, into public institutes to help teachers' aspirations.
The head of the education office in Phu Nhuan District, Ninh Van Binh, announced that only one school is self-financing in its district.
The school receives 65 percent of funds from the State but it seems inadequate. The department proposed to cover 100 percent of funds for the next school year while students must pay tuition fees of VND90,000 per term.
Nguyen Tien Dat, from the HCMC Department of Education and Training, stated that self-financing public schools in rich areas that receive large contributions from parents will get 30 percent from the State budget, saving VND5-7 billion annually.
The savings will be used to upgrade poor schools.
There is inequality between public and self-financing public schools. Public students pay only VND15,000 while their counterparts contribute VND90,000 for tuition fees, said Le Hieu Dang, deputy chairman of the HCM City Fatherland Front Committee at the workshop.
School managements proposed the same tuition fees for both types of institutes. 
It is feared that large tuition fees will become burdens for low-income families, leading to a high rate of early school leavers.