Vietnam National University in Ho Chi Minh City has bestowed the honor title to Dr. Omar M. Yaghi, one of the most internationally well-known scientists.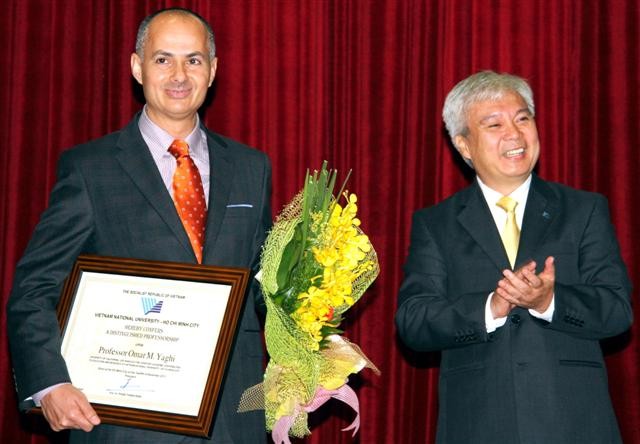 Prof. Dr. Phan Thanh Binh, President of Vietnam National University (R) and Dr. Omar M. Yaghi at the ceremony
Dr. Omar M. Yaghi has been a key figure in initiating the establishment of a metal organic framework and evolving an organic structural center which offers postgraduate courses according to international standards in the same field.
The Molecular and Nano Architecture Center (MANAR-VN) was set up by Dr. Omar M. Yaghi's student, Dr. Phan Thi Phuong Anh, currently in charge of the center.
MANAR-VN will focus on research and technology transfer in areas such as energy, environmental protection and biomedicine. 
Dr. Omar M. Yaghi has successfully developed compounds now known as metal-organic frameworks (MOFs), zeolitic imidazolate frameworks (ZIFs) from basic science to applications in clean energy technologies including hydrogen and methane storage and carbon dioxide capture and storage. He was listed second amongst the top ten most highly cited chemists worldwide during 1998–2008.
His work on hydrogen storage was recognized by Popular Science which listed him amongst the 'Brilliant 10' scientists and engineers in clean energy technologies in 2008.