Deputy Minister of Education and Training Banh Tien Long has just sent a memo to institutes, colleges, universities and educational and training departments to prepare facilities and human resources for the multiple-choice exams.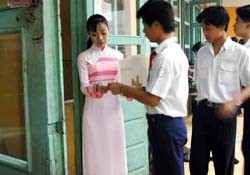 Examiner teacher checks students' documents
By the set roadmap, tests of foreign language subject for high school graduation and university entrance exams will be in the form of multiple-choice in 2006. As of 2007 multiple-choice tests will be applied to the subjects of mathematics, physics and chemistry. Schools and institutes will be charged with marking candidates' papers.

Learning from experience of the previous trial multiple choice exam on foreign language subject, the Education and Training Ministry has requested the educational units to ensure all preparation is completed for pupils and teachers to carry out the tests successfully.
Related link:
- Mock Multiple Choice Exam to be Held