The Mekong Delta produces most of Viet Nam's agricultural exports and contributes roughly 20 per cent to the country's GDP, but its education level and quality remains below national standards.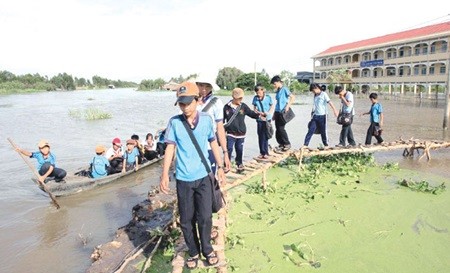 Students battle through floods to get to junior high school in the southern province of Long An. Of the 1,468 junior high schools in the Mekong Delta, only 384 meet national standards. — VNA/VNS Photo Trang Duong
At a conference held on Friday chaired by Deputy Prime Minister Vu Duc Dam at Can Tho University, representatives of several provinces in the region suggested that the government allocate more funds for kindergartens.
Ca Mau Province, for example, has only 132 kindergartens. Only 62 per cent of children can attend kindergarten, a much lower rate than other provinces in the region, a representative from the province told the deputy minister.
Local authorities have had to use 300 classrooms at primary schools for kindergarten classes. And only 60 out of 101 wards and communes can offer kindergarten for children under five.
Officials from the province said they needed VND600 billion (US$26.6 million) to build more kindergartens.
Nguyen Thi Minh Giang, director of Kien Giang Province's Department of Education and Training, said the province needed an additional 500 classrooms and 1,000 chairs.
It also needs to upgrade 400 classrooms and hire 1,000 school personnel,which includes 800 kindergarten teachers. To realise the plan, the province needs VND700 billion ($31.1 million), she said.
Bui Van Ga, deputy minister of Education and Training, said the shortage of kindergarten classrooms was serious as the region had to use 1,905 temporary classrooms and 2,600 classrooms "borrowed" from other schools.
The ministry plans to ask the central government to build 1,492 new classrooms, at an investment of VND1.8 trillion ($80 million) in the region.
"Most provinces in the delta get support from the central budget. Without this support, localities cannot upgrade kindergartens," Ga said.
However, Deputy Prime Minister Vu Duc Dam said the province should promote privatisation or self-controlled financial mechanisms in order to reduce strains on the State budget.
Ga said the high rate of school dropouts in primary and high school in the Mekong Delta was another problem.
The school dropout rate at the primary level is 0.45 per cent; at junior high school 3.26 per cent; and at senior high 3.94 per cent, much higher than the national level.
According to the Ministry of Education and Training, the Mekong Delta has 3,103 primary schools. Only 1,013 of them meet national standards.
Of the 1,468 junior high schools in the delta, only 384 meet national standards. And only 57 out of 466 senior high schools meet national standards.
The rate of teenagers studying at high school is only 46.9 per cent, lower than the national level of 59.4 per cent. Even the Central Highlands, which has a low graduation rate, has a rate of over 50 per cent.