The monthly education loan for students has been raised to VND1 million from an earlier VND900,000, and a student can now apply for a loan of VND10 million (US$476) for one academic year.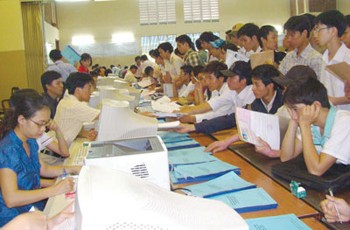 Students enquire about new procedures for loans, at a university in HCMC (Photo: SGGP)
This decision was made by the Prime Minister on August 1 to facilitate the credit assistance program for students in the country.
The Vietnam Bank for Social Policies said that the capital amount for the credit assistance program for students for the 2011-2012 academic year is available and ready to be transferred to the various regions as per requirement.
The available fund for the first semester of this year is estimated to reach VND5 trillion (US$238 million).
The loan interest on the student education loan has also been increased from 0.5 percent to 0.65 percent a month.
Nguyen Van Ly, deputy director of the bank, said that tedious and lengthy procedures to obtain the loan in previous years would now be eased from this year.
Whenever a student requires a loan, it will be readily available after all essential requirements are met. Any other drawbacks like disadvantaged conditions will have to be forwarded in a written confirmation, by commune authorities and concerned schools.