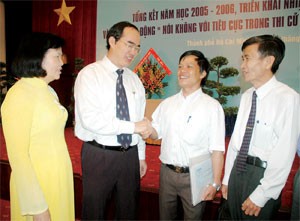 Mr. Nguyen Thien Nhan (2nd, L) shakes hand with Mr. Do Viet Khoa
Minister of Education and Training Nguyen Thien Nhan has convened a meeting in Ho Chi Minh City  (HCMC) Monday to present his plan of reforming Viet Nam's education in the next school year.
Viet Nam education in the next year will have major breakthroughs in examinations and learning.
The battle against wrongdoings in the national educationa system will be fought with the combined efforts of all educators in the country.
Cheating in exams, an unacceptable behavior leading to incorrect evaluation in the long run, has appeared as a widely condemned problem over the past time.
Particularly, the problem has been even serious as many cases were found out during the university admissions test.
"The ministry must have measures to protect people who dare to denounce wrongdoings to the authorities", said Mr. Do Viet Khoa, a teacher recently well-known for his action against cheating in exams in the northern province of Ha Tay.
Most of the delegates from 64 education departments across the nation agreed that the campaign against dishonesty in exams would only be successful with the wholehearted support of high-level educators.
This year's campaign for honesty in exams was a hallmark to Viet Nam's education, causing big changes to the country's learners and teachers, said Mr. Phan Van Be, Director of Dac Nong Department of Education and Training.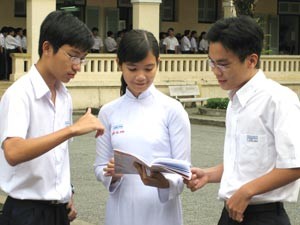 This year's campaign for honest exams is a hallmark to Viet Nam's education. (Photo: TC)
The Minister also impressed that the ratio of student passing the graduation exams will surely reduce in the next school year.

The next first year might see a larger number of children repeating a class, he added.
Bad practices in examinations have been reported many times over the past years, said Mr. Be. However, the punishments were not serious enough to stop these bad behaviors.
Up to 80 percent of students passing the graduation tests was a completely doubtful figure, he said.
Mr. Nhan also announced his plan to enhance the effectiveness in learning among schools, firstly in Ha Noi and HCMC, the two biggest cities in the country.
Ha Noi has previously agreed to reform the teaching method in the next years. It is a waste of time for the teachers to read again the textbooks to students in school, he said.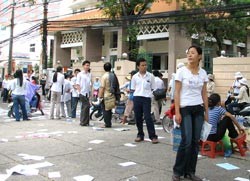 Copies of exam answers scattered on the school yard after the university admissions tests (Photo: TC)
In future, lecturers must teach students how to learn by themselves, stimulating their creativity.
Learners must know how to effectively strengthen the link between academia and industry.
"It is a very difficult task", he said. It even took Singapore, who currently has a good educational system, quite a few years to develop their education.

The meeting, considered the biggest meeting after 1975 in HCMC, was convened one month since Viet Nam had a new educational minister.