The education sector must be reformed, President Nguyen Minh Triet told the audience at a ceremony for the opening of the school year held at Hanoi-Amsterdam High School in Ha Noi Wednesday morning.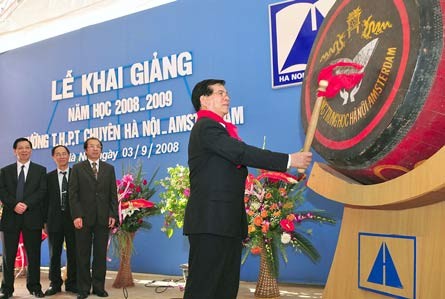 President Triet beats the drum to start the new school year at Hanoi-Amsterdam High School
The education sector of the country in general and of Ha Noi in particular must be reformed comprehensively to develop human resources to serve the country's industrialization, modernization and international integration, the President said.
During the 2008-2009 academic year, information technology will be upgraded, financial management will be renovated, and projects for better schools and students will be developed, Mr. Triet added.
Mr. Triet demanded that the education sector renovate its curricula and teaching methods and pay more attention to educating students in morality, lifestyle, career orientation, and law.
Starting now, every student must set for themselves a sound goal and motivate themselves for education. Learn to expand knowledge, learn to become good people, learn to have a career and learn to contribute to the building and development of our country, the President told teachers and students at the school.