At an online conference on August 5 held by the Ministry of Education and Training to review the 2015-16 academic year and launch its tasks for 2016-17, Prime Minister Nguyen Xuan Phuc confirmed that education is the national policy; accordingly the entire machinery of state must mobilize.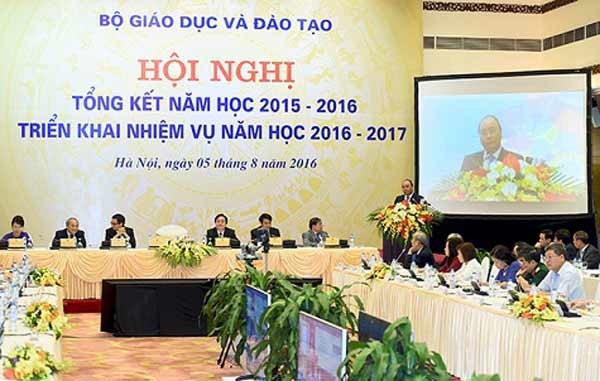 At the online conference (Photo: SGGP)
The PM also pointed out the sector's achievements and weakness. Annually, Vietnamese parents have spent billions of dollars to send their kids to study abroad proving education quality needs to be improved.
In addition, there still exist wrongdoings in enrollments, examinations and issuance of qualification. In addition, the sector has some problems including the ineffectiveness of foreign language teaching, which results in poor English proficiency among high school students.

PM Phuc paid attention to tertiary and higher education and vocational training which must satisfy social and labor demand. He lauded the cooperation between the Ministry and the Vietnam Chamber of Commerce and Industry to match the needs of the labor market, leading to large numbers of unemployed graduates and a lack of highly-qualified workers.

Additionally, the PM ordered related agencies to resolve difficulties in management and have policy for teachers, managers and students. "The efforts of the education sector so far is to enhance the quality of both teaching and studying, helping ease study overload on students and improve the education infrastructure, especially in mountainous and remote areas", the PM added.

Deputy PM Vu Duc Dam said that reform in examination form is needed to integrate in the global trends. He expressed his wish that the sector must consider student is centered during its reform procedure.