The Education Publishing House announced on April 28 a new list of textbook prices for this year.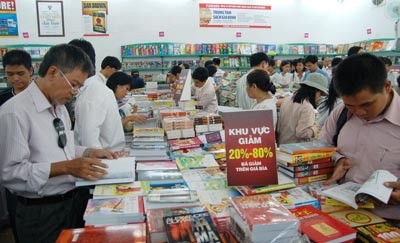 Readers at a bookstore in Ho Chi Minh City (Photo: SGGP)
The prices are applicable for textbooks from first to ninth grade and have been approved by the Ministry of Finance.
As per the new price list, the first grade textbook set of 6 textbooks will be sold at VND47.500, the second grade textbook set of 6 textbooks at VND45.300 and the third grade textbook set of 6 textbooks at VND49, 000. Whereas the forth grade textbook set of 9 textbooks will be at VND77, 700 and the fifth grade textbook set of 9 textbooks at VND78, 000.
According to Nguyen Minh Khanh, deputy general director of the publishing house, textbook prices this year increased by 16.9% compared to last year due to an increase in paper costs. 
Paper price increased by 30% and transportation prices doubled compared to the same period last year, hence most printing houses decided to increase printing prices.
During the 2010-2011 school terms, many provinces adopted the price stability program for study material. Hanoi added notebooks on the price stability program from June 2011 to October 2011.
Many stationery shops increased the prices of paper products due to increase in paper prices from 10-15%.