Deputy Prime Minister and Minister of Education and Training Nguyen Thien Nhan reported at a meeting Friday the status of Vietnamese education and presented a strategy for education in 2009-2020.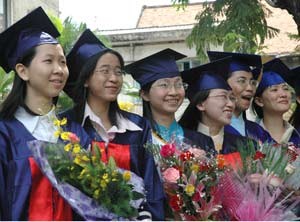 The file photo shows new graduates from the HCM City University of Pedagogy at the graduation ceremony. (Photo: Mai Hai)
At the meeting, former teachers and professors stressed that education is always a public concern and must meet the demands of society. Vietnam desires to be a developed country by 2020, as a result the strategy for education must provide opportunities to realize that dream.
However, participants said that the strategy for education introduced by the minister lacked evidence and a firm scientific base.
Prof. Nguyen Huu Tang from Association of Science and Technology Unions said that there were many desires in the strategy but they should be built on a scientific base to meet demands of the reality.
"For example the strategy says that Vietnam will have two international standard universities but it does not give dates", added Prof. Tang.
Agreeing with Mr Tang, Prof Vu Duong Ninh from the Vietnamese Historical Association said he valued the strategy and noted it dealt with many issues but only dealt with pre-school to higher education.
"The strategy should have big targets and suggest resolutions", Mr Ninh added.
He also suggested the Ministry of Education set fixed goals and periods.
Prof. Nguyen Mau Banh reminded that the MoET forgot teachers who are one of the corners of the triangle in education development.
"Several targets are very good, such as 450 university students per 10,000 people and teaching popular foreign languages in schools but the ministry does not focus on how to get enough teachers to meet the targets", he said.
"Financial conditions are not pointed out meanwhile the strategy promises to spend 21% from the national budget for education. That means every student will receive only a further $12", he added.

Participants said that the new strategy still dealt with the crux of school education meanwhile higher education needs an overhaul.
From the aspect of human resources, Mr. Duong Van Sao from Vietnam General Confederation of Labor judged that all most the strategy focused on school education, it barely made reference to vocational training and higher education.
"Current vocational training does not meet demands and higher education is developing faster than its ability resulting in a shortage of lecturers. There is little scientific research as lecturers spend so much time standing in class" he said.