The Deputy Prime Minister and Education Minister, Nguyen Thien Nhan, will preside over an online question-and-answer session, "Education and Training of Vietnam in the new academic year," August 31.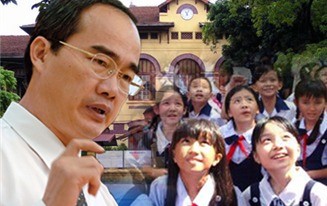 Education Minister Nguyen Thien Nhan will reply to education questions
Anyone seeking information for Vietnamese policies on education and training can post their questions on Government and Dan Tri (Intellectuals Newspaper) websites.
The minister will concentrate on the improvement of management and quality of education, including strengthening education, building friendly schools and producing active learners, raising the capability of teaching staff and developing teaching in disadvantaged regions and distant districts where ethnic minority people live.
At present, the sector is making concerted efforts to implement the Party and National Assembly's decrees on education and training to 2020, as well as a campaign to study and follow the moral example set by Uncle Ho Chi Minh.
Three provinces will undertake pilot projects to enhancing computer capabilities and widen Internet access in their communities.
Teachers, students and residents in the Mekong Delta province of Tra Vinh, the northern province of Thai Nguyen, and the central province of Nghe An will benefit from the project, which will use a grant of US$2.15 million from the Bill & Melinda Gates Foundation.
In related new, the Ho Chi Minh City Waterway Traffic Police August 30 gave 200 lifejackets and over 1,000 notebooks, textbooks, pens and clothes to disadvantaged pupils at Cay Kho canal, Nha Be District , at a meeting to teach them domestic marine law.