The Vietnam Central Study Encouragement Association, EQuest Academy in collaboration with the Vietnamese American English Center (VATC) has just launched the English Champion 2017 for students from fourth to eighth  graders beginning now till April.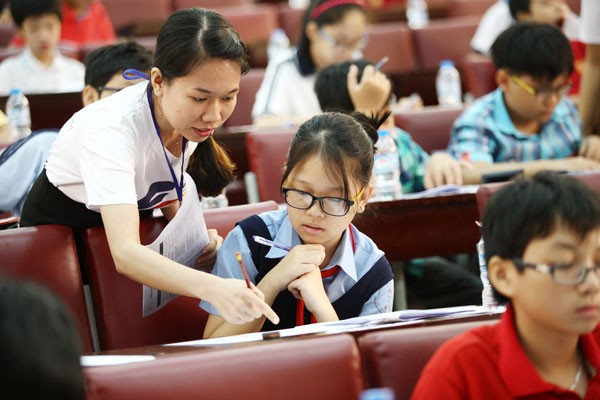 Students sit for the contest (Photo: Courtesy of the organizer)
The contest themed "English can change your world" aims to inspire and cultivate creativeness as well as confidence about English competence to small students.
It hopes to attract 30,000 students nationwide with the awards totally worth VND40 billion ($1,772,342).
This year, candidates will finish the first and second rounds via internet. To ensure the fairness, all candidates can register one account only to do the tests as per the organizer's schedule.
Additionally, the system will have a method against cheating in the contest to ensure assessing candidates' competence.
In the third round, candidates will sit for contests of Math, science and society. Ten excellent candidates will be selected for the fourth round held in Ho Chi Minh City and they will partake in activities including making friends and soft skills which take 20 percent of the whole scores. The last round is delivering speeches accounting for 80 percent of the whole score.
To have more information of the contest, candidates can visit the contest official website http://www.englishchampion.edu.vn/