Ho Chi Minh City Union of Friendship Organization in collaboration with Vietnam-Southeast Asia Friendship Association yesterday held a seminar themed "English looks toward ASEAN community", attracting the attendance of crowded students and  lecturers.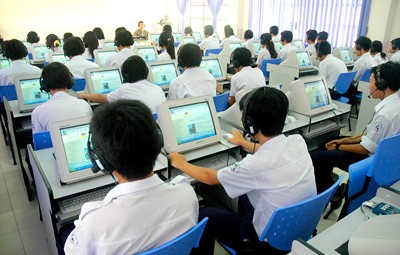 (Photo:SGGP)
Chairwoman of Vietnam- Southeast Asia Friendship Association Phan Thi Hong Xuan said: "Today, English is recognized as undoubtedly the most important language to exchange information, bring people together."
With establishment of ASEAN economic community, English is considered as an international language to link ASEAN member countries together.
Chairwoman of Educational Council of Junior Schools in Chachoengsao and Samutprakran provinces (Thailand) Mrs. Sali Kasemrat, who authored "English for ASEAN Community" book, shared advantages and difficulties in English teaching in Thailand.
Currently, English is the second language of over 53 countries and territories nationwide, and the third language after Chinese and Spanish. Around 400 million people speak English as the mothertongue, meanwhile, 1 billion people use English as their second language.