The British Council in co-operation with Ox - Bridge Cultural Exchange Project (OCEP) and Upper and Lower Secondary Schools in Viet Nam will organize a series of English Summer Camps in Upper Secondary schools in Ha Noi and Ho Chi Minh City in July 2006.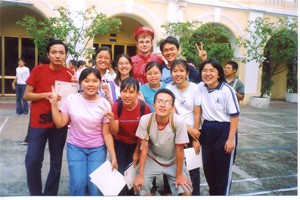 Pupils at the camp of the previous year ( Photo: QuangTuan)
In Ha Noi, the camps will take place from July 17 – 22, 2006 at Chu Van An High School and from 24 – 29 July, 2006 Viet Duc High School 
Registration will start from Saturday May 20 and application will be considered on first come first served basis. A maximum participation of each Camp is 200.
The same program will be carried out in Ho Chi Minh City in Tran Dai Nghia, Le Hong Phong and Nguyen Thuong Hien Upper Secondary Schools from July 3 – 23, 2006, one week at each school.
Students of these schools can contact the school management for registration information. 
This is a great chance for pupils who love English to merge themselves into a full week of English classes, exciting games, quizzes, competitions, etc with students from Oxford and Cambridge Universities, in an English-speaking environment.