English will be taught from the primary school onwards under a program that the Prime Minister has just approved, an official of the Ministry of Education and Training said Thursday.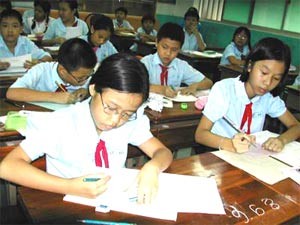 Primary school students will study English in their classes under the program
The "Teaching and learning foreign language in the national education system" program  aims to encourage English teaching and learning at levels rated by the European Association for Language Testing and Assessment (EALTA). It will have students learn English at the primary school (grades 1-5) itself, instead of the secondary school (grades 6-10) 
Students passing out of primary schools will be required to have Level 1 English proficiency, while those in secondary schools will have to pass Level 2 rated by EALTA.  
In addition, the program will also have some subjects like mathematics taught in English in some selected high schools.  
Junior college or university students whose major is the English language will have to pass EALTA Levels 4 and 5. Others, who do not major in English, only need to have passed Level 3 on graduating from their university and college.