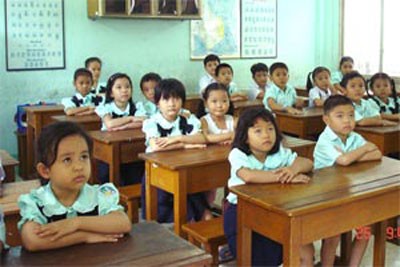 Pupils learning English language in Nguyen Binh Khiem Primary School of District 1 (Photo: B.Long)
More than 300 teachers and educational staff of primary schools in Ho Chi Minh City participated in a seminar on May 3, organized by the HCMC Department of Education and Training and Dai Truong Phat Corporation, to discuss the teaching of English as a mandatory subject by 2015.


By academic year 2015-2016, the City aims to make compulsory the teaching of English in all primary schools from the first grade on.
According to Le Ngoc Diep, head of Primary Education at the Department of Education and Training, at the moment only 80 percent of primary school students are studying English under two programs chartered out by the Ministry of Education and Training.
However, the average first grader studying English is a mere 25 percent at present. This percentage will double by academic year 2013-2014 and by 2015 it is expected that 100 percent will begin to study the English language from the very first grade.
The HCMC Department of Education and Training also recommended that primary schools add adequate facilities to teach Maths and science subjects in English in future--for young students to be better prepared in all-round subjects.